Happy to be posting new gameday recipes every week for your party in the lot, or the living room, or your consummate road trip!
Week #5 – Hot Sausage Stuffed Pork Loin with Bourbon Peach Sauce
Ingredients:
2.5 to 3 LB pork loin – flattened to 3/4" thickness
.5 LB of hot sausage (3 links, taken out of casing)
1 whole red bell pepper (cleaned and small diced)
1 medium onion diced
1/2 cup of your favorite BBQ Rub
salt and pepper
3 whole medium ripe peaches – quartered with skins on
6 oz. of Bourbon
1 Tbsp Apple Cider Vinegar
1 Tbsp Honey
1 Tbsp Brown Sugar
Instructions:
Flatten your pork loin to approx. 3/4" thickness
Season with salt and pepper, set aside.
In a fry pan,  cook the ground sausage for 3 minutes, then add the red pepper and onion. Cook until the pepper and onion are soft, and the sausage should not be overcooked. Let cool.
Add the sausage mixture evenly across the flattened pork loin, leaving 1.5" clean at each end. Flatten with your clean hand. Season again with salt and pepper. Roll the loin tightly yet slowly, while patting the sides in every couple of inches.
Tie the pork loin with string to your liking – usually 3 ties length-wise, and 2 across the sides gets it done
Season the stuffed pork with your favorite BBQ seasoning
Smoke with fruit wood, or grill off-heat at 250-275 degrees. Turn the loin several times. Remove and wrap in tin foil when internal temp reaches 160 degrees.
In a medium pot, heat the bourbon to boil on high, then reduce the temp to a slow boil. Reduce the bourbon by half. In a blender, add peaches, AC vinegar, honey and brown sugar. Puree for 1 minutes.
Add the puree to the reduced bourbon, and cook on medium low for 15 Minutes.
Slice the stuffed pork to 3/4" slice, and top with the bourbon peach sauce.
Serve with root vegetables and your favorite cheesy potato dish.
___________________________________________________________________
Week #4 – Fried Catfish Po Boy with Tangy Slaw & Garlic Aoli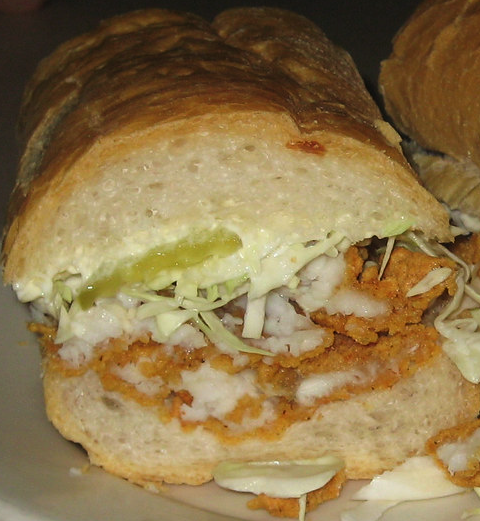 Succulent pieces of US Farm-Raised Catfish, topped with a tangy slaw, and garlic aioli. Good with a cold one in the other hand
Ingredients
4 (5-ounce) catfish fillets
1/2 teaspoon freshly ground black pepper,
divided 1/4 teaspoon kosher salt
1 1/2 tablespoons cornmeal
2 teaspoons canola oil
2 tablespoons cider vinegar
2 tablespoons real mayonnaise
2 teaspoons grain mustard
1 teaspoon sugar
1 cup shredded green cabbage
1 cup shredded red cabbage
1/2 cup thinly sliced green apple
1/2 cup thinly sliced red onion
4 Kaiser rolls, lightly toasted
2 Tbsp Mayo (Real Mayo)
Juice from 1/3 of a Lemon
1 large clove of Garlic -minced
Sea Salt to taste
1 Tbsp Chives
Instructions
Fry the catfish
Sprinkle fish with 1/4 teaspoon pepper and salt. Sprinkle with cornmeal. Heat a large nonstick skillet over medium-high heat. Add oil; swirl to coat. Add fish to pan; cook 4 minutes on each side or until done.
Set aside; Cover with foil
Make the Coleslaw
Combine cider vinegar, mayonnaise, mustard, sugar, and remaining 1/4 teaspoon black pepper in a medium bowl, stirring with a whisk. Add green cabbage, red cabbage, sliced apple, and red onion; toss to coat.
Make the Garlic Aioli
Mix all ingredients together well.
Place 1 fillet on bottom half of each Kaiser roll. Top each serving with about 1/2 cup slaw and top half of roll.
___________________________________________________________
Week #3 – Early Season Bye Week – "Sorry"
Week #2 – Gordo's Armadillo Football Eggs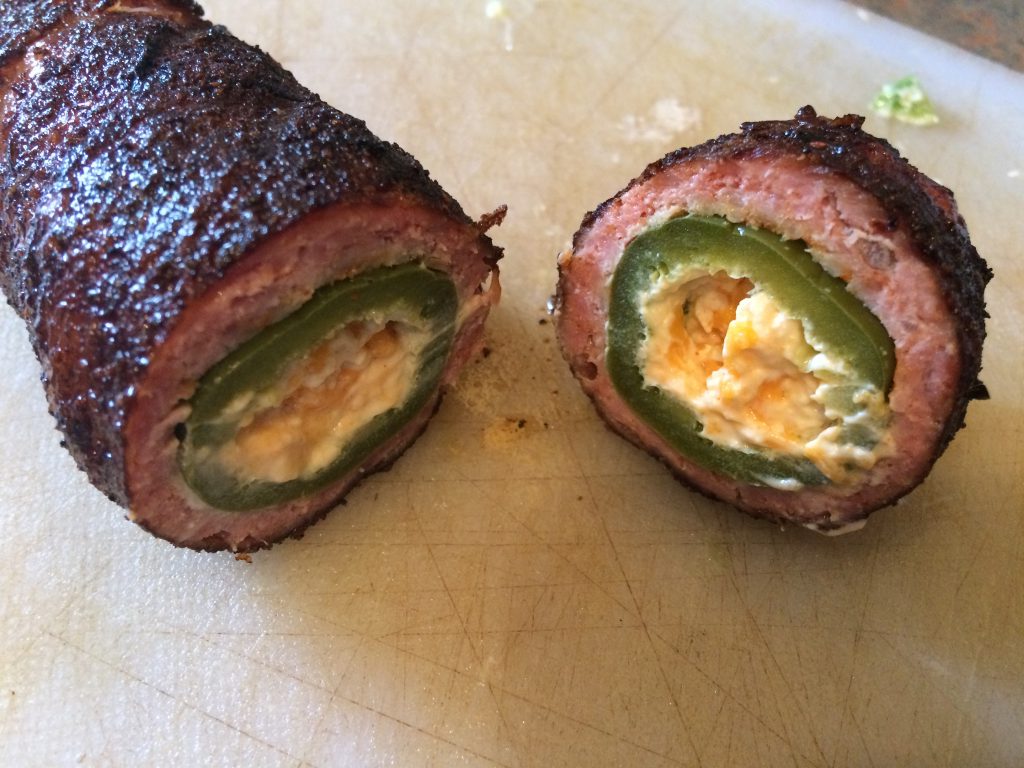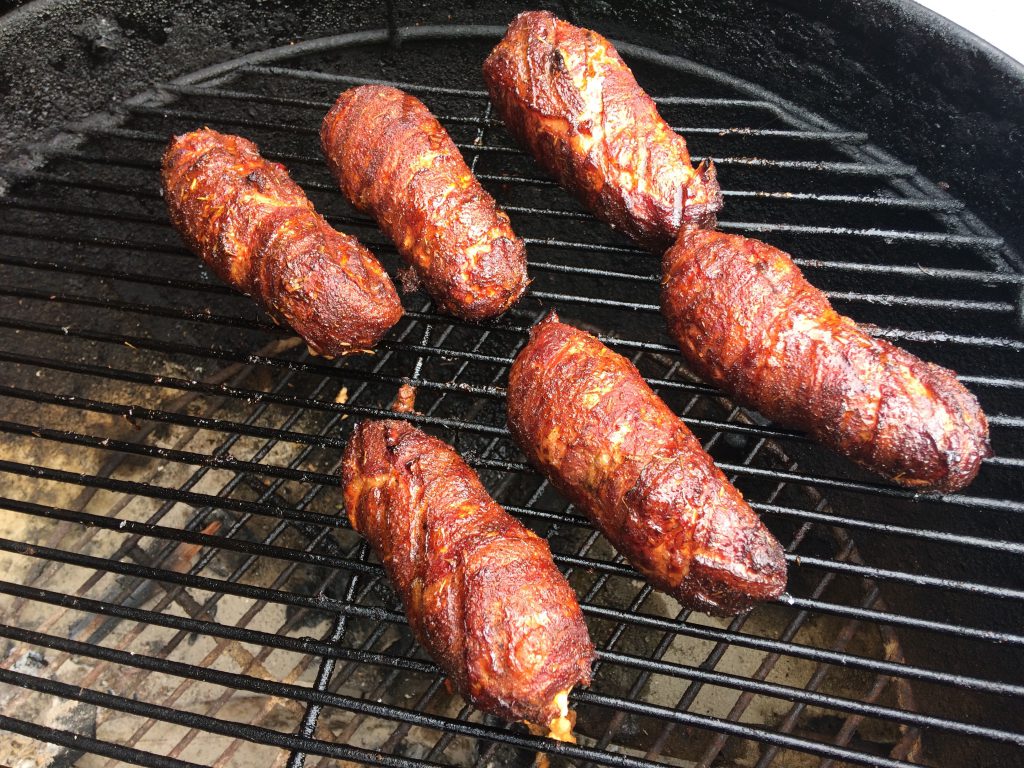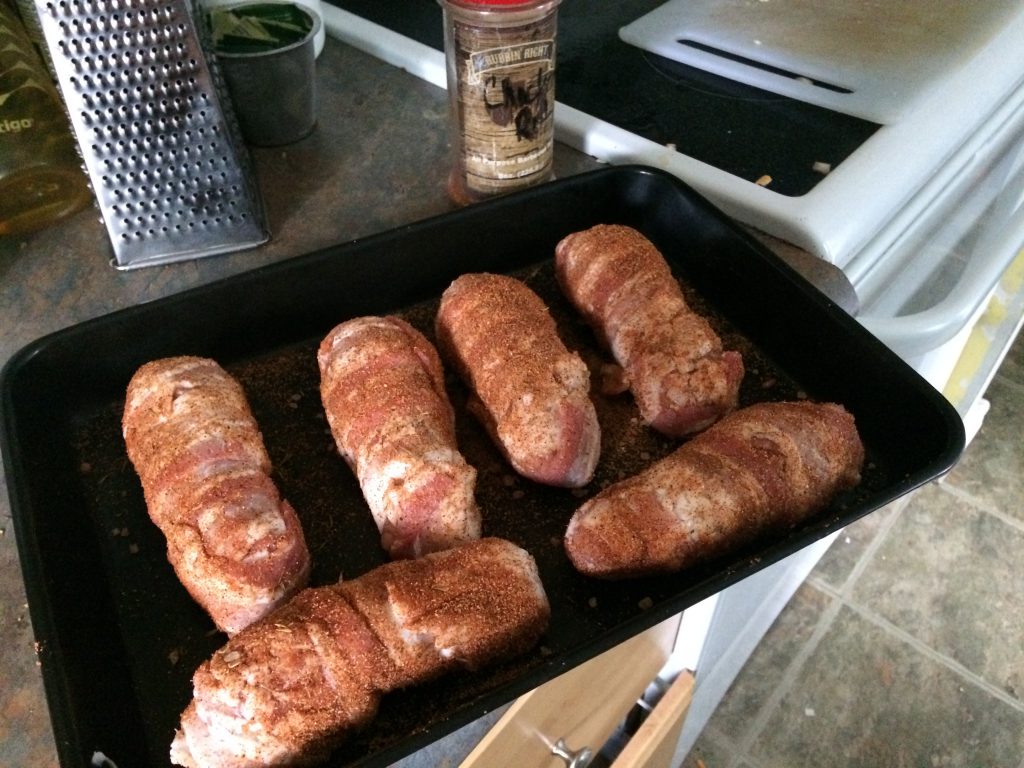 Gridiron Chef Notes: This smoked traditional recipe has been served millions of ways to Sunday.Gordo's Cheese Dip and Cream Cheese adds a unique new flare to this favorite gameday APP!
Ingredients
• 1 pound pork sausage, or .5 Lb pork sausage and .5 Lb ground beef if you prefer
• 12 slices bacon
• 6 jalapeños (cleaned and hollowed)
• 4 oz cream cheese softened (1/2 a brick)
• 6 oz. Gordo's Cheese Dip
• 2 Tablespoons BBQ Rub
• 1 cup BBQ Sauce (optional)
• Salt & Pepper to taste
Instructions
• Preheat your grill / smoker to around 250 degrees. Prepare your favorite wood chucks or chips. I prefer a fruit wood!

• In a medium bowl, combine the cream cheese, Gordo's cheese dip, and 1 (of 2) Tablespoon of your rub
Pipe a portion of cheese mixture into each jalapeño.
(Hint: To pipe the cheese mixture, spoon cheese mixture into the bottom of Zip Lock bag, squeeze out air. Cut off 1/2" of bottom corner. Begin piping!)
In a medium bowl, mix the ground pork well, with a healthy amount of salt and pepper to taste. Separate into 6 equal portions.
Wrap each jalapeño with 1/6th of the pork sausage (Flatten a medium handful into an oval pattie, and place jalapeño in middle, and fully encase
Top to bottom, wrap each sausage covered jalapeño with bacon. It may take between 1 and 2 pieces of bacon per jalapeño
Season each egg with a light sprinkling of BBQ rub

Place on the smoker off-heat and close the lid. Smoke to 165 – 170 degrees . Depending on size of eggs, expect smoking time to be approx. 2 hours.
Optional: the last 15 minutes of smoking, pat a little BBQ sauce on each, and finish.
Optional: if you prefer your bacon crispier than the finished product, place eggs on "direct" heat and rotate for 3-4 minutes.
Suggestion for a DIPPING SAUCE:
Hot sauce and Mayonnaise | or puree' a jalapeño with some ranch dressing | or dip your eggs in your remaining Gordo's Cheese Dip
Serve hot and enjoy!
Week #1 – Smoked Onion Dip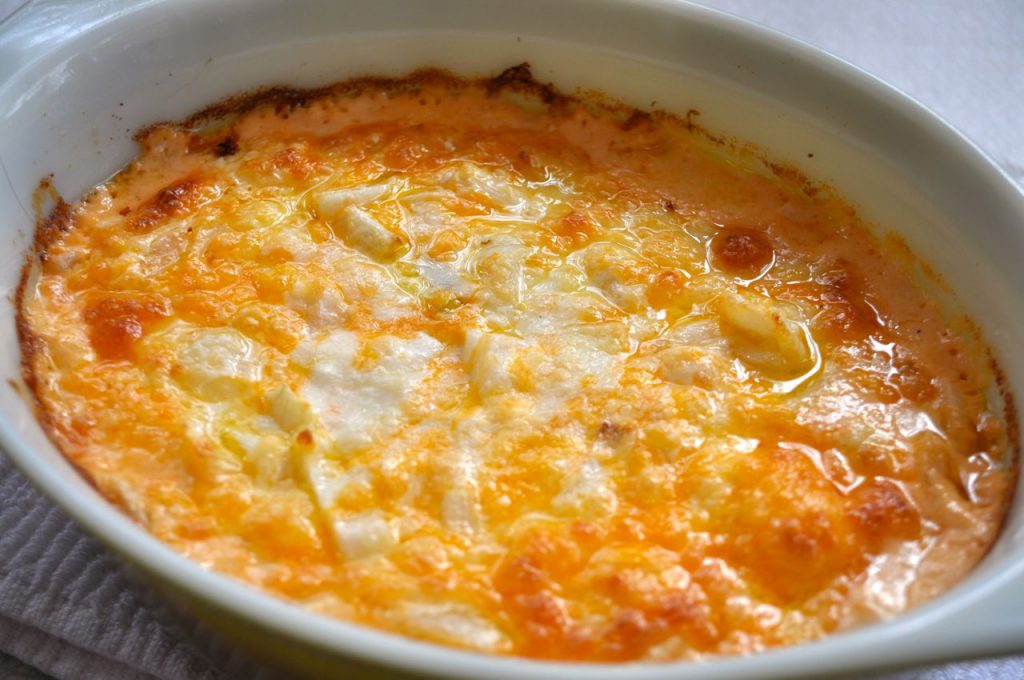 Ingredients
3 Tbsp EVO or Canola Oil (1 Tbsp to grease your dish)
1 Tbsp of BBQ rub (your choice)
3.5 cups freshly shredded cheddar cheese
4.5 ounces cream cheese, cubed
3 small-medium yellow or Spanish onions
1/2 cup mayonnaise
Instructions
1. Prepare your smoker/grill – preheat to 300 degree; when up to temperature, add wood chips or chunks of your choice
2. Peel and halve the onions. Rub with a little oil of your choice. Season the onions with BBQ rub
3. Smoke the onions for 30 to 40 minutes
4. Remove onions, let cool, then dice onions
5. Place cubed cream cheese in large mixing bowl, then microwave for about 40 seconds to soften
6. Add diced onion, cheddar cheese, and mayo to mixing bowl with softened cream cheese. Mix to combine.
7. Scoop out the mixture into greased medium sized baking dish (i.e. 8' x 8"), small tin pan
8. Place on a grill, or bake at 350 for 30-40 minutes until bubbling and light brown on top
Serve with tortillas, pitas, or tortilla chips (Hint: grill an assortment of tortilla shells and pitas in tinfoil. Cut into wedges)