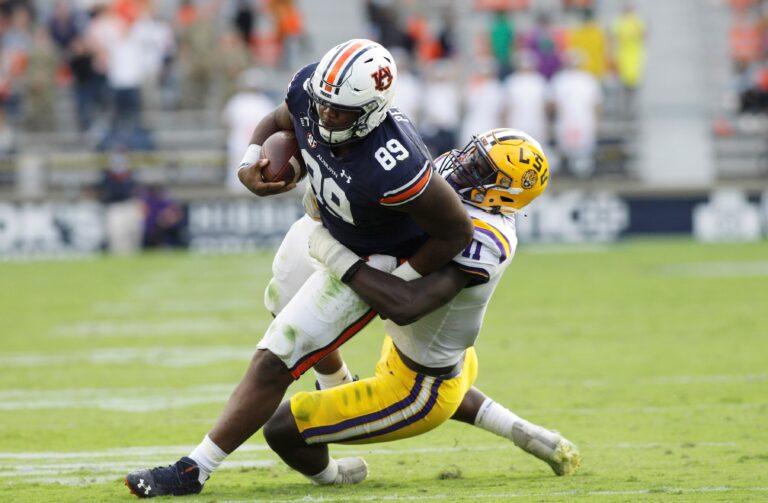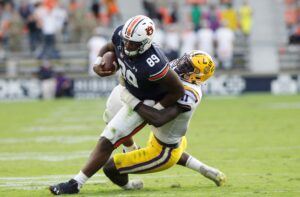 With each passing day, new Auburn head coach Bryan Harsin and his staff are learning about their team while trying to find ways to get the best players on the field.
Last week, Harsin, defensive coordinator Derek Mason and defensive line coach Nick Eason all agreed to approach J.J. Pegues — one of the squad's most polarizing players due to his size and freakish athletic ability — about a potential move from tight end to defensive tackle. Pegues welcomed the switch with open arms and vowed to help the Tigers in any way possible.
"He (Harsin) felt like I could be a big piece to the D-line room and be that leader that they needed," Pegues said. "And I chose to go to D-line just for my team — so we can get wins.
"Not only for myself but I feel like it's an opportunity for me to show the world that I can play both sides — tight end and D-line — and I feel like if I do that, I can help the team and maybe one day play in the NFL."
Pegues opened his new career as an Auburn defender at defensive tackle, primarily at 3-technique, which lines up on the opposing offensive guard's outside shoulder, and 4-technique, which operates on the inside shoulder of the opposing offensive tackle. Pegues said he played a little D-line in high school, but the biggest transition for him so far at the collegiate level has been learning the position's terminology and the multiple nuances of his new role with the Tigers.
"Taking on double teams, how to get into stance, like all of that," he said. "And me being behind a little bit, it frustrates me a little bit. But coach (Nick) Eason, he's always telling to me it takes time. You've just been over here for a little bit."
Last year, Pegues primarily played tight end and also saw time as a short-yardage runner in the Wildcat, a favorite short-yardage formation of former coach Gus Malzahn.
He had five carries for 14 yards and seven catches for 57 yards. He also threw several bone-jarring blocks, endearing him to the Auburn fan base.
With his size (6-foot-2, 300) and athletic ability (played multiple positions in high school, including quarterback), Pegues could grow into a playmaker on a defensive line that's in need of playmakers. He's also motivated to help Auburn's new coaching staff make the most out of its current roster.
"I feel like these coaches have stepped in and actually laid out a great plan for us this spring," Pegues said. "I feel like all of us have evolved as a group and got closer to each other just family-wise.
"I feel like if you can have a player-led team, you can go anywhere with that, even championships. I feel like that's their big goal, having a player-led team and having us all together as a family."